Collaboration, working together on propositions
In the innovation platform there are always possibilities that not only individuals work on a proposition, but they could also work on propositions as a team. Before a development of a proposition is shared in the innovation platform, a process precedes in practice. You can think of brainstorming, reaching consensus, sharing information, convincing each other and of course conducting healthy discussions etc. For this purpose, the existing tools in an organization are often used, if present, such as Skype, Slack, Yammer and a large range of other solutions.
Innofication has developed an integrated solution that allows team members to work together directly in the innovation platform.
Only team members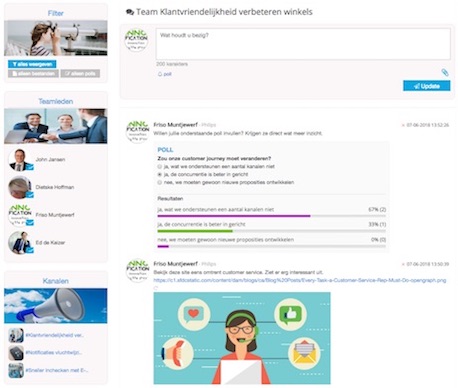 The solution to collaborate is organized around the team members of a particular idea / proposition. It is a closed environment exclusively for the team members where they can collaborate with each other in complete confidence. And of course, team members can be any person within the eco-system of the customer. If players / users are active with multiple propositions, they can work together in different environments. This is similar, for example, to the channels in the popular Slack application.
Share content
The team members can share content in the collaboration solution, such as links, videos, images, MS Office files, etc. If the content is in a format that browsers can display immediately, then it will be presented directly to the players / users as much as possible. After a workshop of the innovation team, the photos and the report can be added directly into the collaboration solution.
Polls
Especially when many team members are active, it can be of great added value that the players / users quickly create a poll to check the answers of other team members. The answers of the team members are anonymous. This is a rapid approach to quickly reach agreement on certain topics. The number of polls that a user can create in unlimited.
The collaboration solution is a handy tool to work together rapidly and in an easy to use way.