Innovation by involving stakeholders
If you look at history, innovation doesn't come just from giving people incentives; it comes from creating environments where their ideas can connect.
Organizations often involve the available knowledge, experience and ideas of stakeholders too late in the process of developing new products and services. As a result, the crowd's expertise remains untapped and success rate of new initiatives decreases.

By involving stakeholders, such as

existing customers

,

affiliates

,

employees

and

distributors

earlier in the development process of new initiatives,

new "gems"

can be discovered by the organization at an early stage of development of new products and services.
Involvement and enthusiasm of the crowd
Change is good, but it should often occurs next to the current business activities and the workload of employees is already too high! It demands too much energy. The success of crowdsourcing and ideation often depends on:
Ease of use
of innovation solution. It may not cost too much time for some people, while their input is important.
Transparency
. It must be clear why certain ideas are more successful than other ideas.
Gaining and sharing knowledge
is important. Not only bringing but also getting is at least as important. Our solution has many capabilities to get in touch with the crowd.
Appreciate users
for their contribution through e.g. badges, likes and individual messages.
The
crowd has an influence on the results
, the best ideas, which go beyond than just liking ideas.
Follow up
. Selected potentially good ideas developing into good propositions. Only perfect ideas do not generate cash flow yet.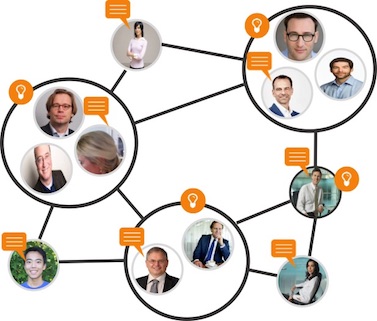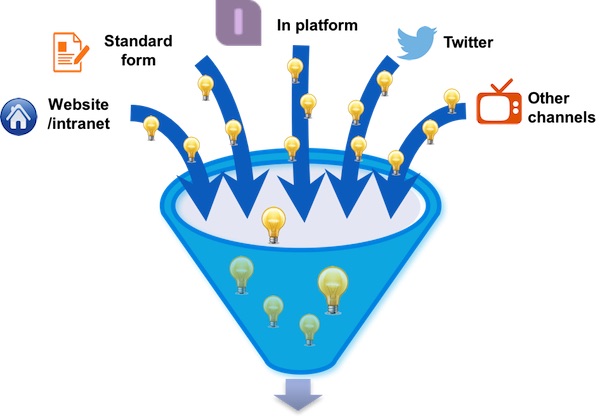 Sharing ideas can take place in different ways. For example, a form on a website where ideas can be shared. It's even easier when a standard form in the Innofication platform is used that can be tailored to your needs. In addition, there is the capability that a Twitter tweet containing an idea with a hash tag, for example #newidea, will be shared. It can be very simple.

Innofication provides an interface (API) so that additional channels can be added easily.


Innofication has various methods for assessing ideas. The most advanced method is a developed scoring model that takes into account likes, comments, answering questions, which is fully in line with your business issue/challenge.
It is important that the crowd should have a clear voice and influence on the results. Innovation by the Crowd!
read more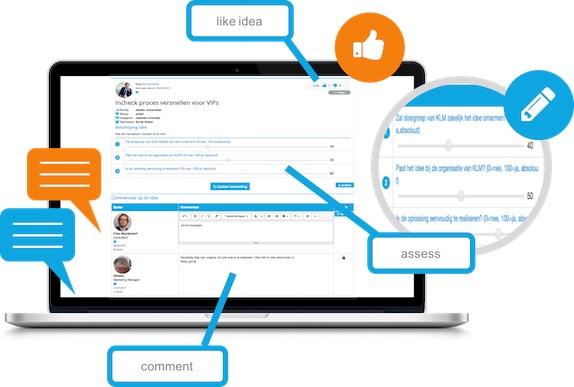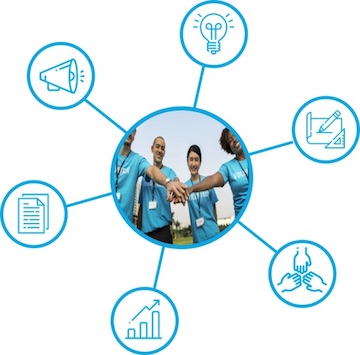 A complete community is available where users/players can, for example, chat with each other and exchange messages. Your own content management system is available (CMS) in the community, where you have the capability to share information (videos, documents, idea information) with everyone involved.
The
community
can be
open
and / or
closed
. An advanced authorization model managet access to the community. After all, it is most often confidential information.
In a closed community, you determine in advance who has access to the innovation platform. With an open community, you make access available to everyone. In a closed community, your most important stakeholders outside your organisation can still participate.
Innofication supports you during each stage of the crowd sourcing/ideation project, such as the preparation, execution and evaluation. The activities could be project management, training, user support from a business perspective, of course technical support, moderator, reporting and facilitating offline sessions.



Some results of the ideation / crowdsourcing are:
Insights in many ideas.
Involvement and commitment of the crowd.
Assessment of ideas by the crowd
Selecting of best ideas which can be deployed and launched



The crowdsourcing / ideation challenge can be used per month or even as a continuous process in your organization. The license model is based on a price per user / player in the platform. This includes also technical support. In addition, Innofication uses one-time setup fees to set up the platform according to your requirements. Additionally, Innofication can fulfil the role of moderator.